The City of Fort Worth has seen tremendous growth over the past 10 years, 38%, making it one of the fastest growing cities in the nation.  Like many cities they will need to adapt to the changing demographics this type of growth demands.  Currently, The T operates local bus service and co-operates commuter rail, the Trinity Railway Express, with the Dallas Area Rapid Transit Authority.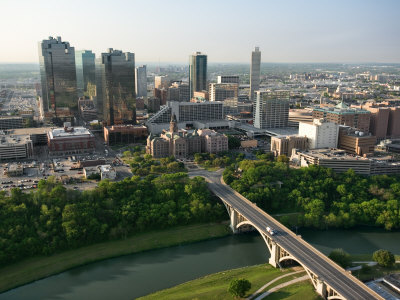 Here are highlights from the Fort Worth Transportation Authority's 2010 Strategic Plan, also known as "The T":
 Currently challenges include insufficient current revenue sources, obstacles to expansion into non-member areas, and inadequate size of the T's present facilities for full service build out of bus, rail and other transit services.
Fort Worth is expected to grow to over 1 million people by 2040.
The greater number of people will add to a growing congestion problem as the increase in highway capacity will not be capable of growing as fast as the population.
Another challenge is the costs of driving and the need for a more affordable solution.  Gas prices may once again rise and demand for public transportation will increase.
Plan Goals
Transportation: The T must become a transportation provider that appeals to a broad cross-section of people in Tarrant County.  The T also must have stronger appeal among other segments of the population, a provider of choice.  The T can actively reduce barriers to transit use by providing a service that customers feel safe using, that reliably delivers people to their destinations, and that is simple and easy to use.

Timeliness: If transit trips take significantly more time to complete than the same trip in a car, few people will choose the public transportation option.  Investment should be made in services that offer faster travel times - such as commuter rail and express bus service and improving local services to reduce travel time.

Technology: New vehicle technologies should be investigated for the potential to reduce fuel and maintenance expenses. 
Expanding Commuter Rail
In a standard survey distr
ibuted to a variety of interest groups in preparing the 2010 Strategic Plan, the items ranked most important were those related to the expansion of commuter rail in the region.  Among commuter rail projects, none are as critical as the completion of the Southwest-2-Northeast (SW-2-NE) rail corridor.  By 2015 The T will open service along the SW-2-NE corridor.
Looking beyond 2015, The T will be investigating additional rail corridors for planning service.  Important is some type of rail service to Southeast Fort Worth, given the large population and high transit use among its residents.  Rail service to this portion of the city could eventually connect to either Arlington or Mansfield.  Other rail corridors recommended for service in the long-term (10-25 year) horizon are lines to Johnson County, the Alliance area (north Fort Worth), west Fort Worth, and the Western Bypass of the current SW-2-NE project.
Important activities of this objective are:
Complete Final Environmental Impact Statement (EIS) for SW-2-NE

Receive Full Funding Grant Agreement (FFGA) from the Federal Transit Administration (FTA)

Develop vehicle specifications and select vehicle manufacturer

Construct and begin operation on SW-2-NE corridor

Complete Southeast Fort Worth Passenger Rail Feasibility Study

Implement express trains on Trinity Railway Express (TRE)

Procure rail trackage rights on additional rail corridors

Design, construct, and operate service on additional commuter rail corridors

Explore options to serve Arlington Entertainment district via Dorothy Spur
Express bus may serve interim purposes until demand warrants rail service in a corridor, or it may serve in heavily travelled corridors where rail isn't possible or appropriate.
Create Enhanced Bus Corridors & Expand Local Bus Service
Enhanced bus corridors would include bus rapid transit (BRT) in the city.  Such corridors would serve as trunk lines enabli
ng better usage of the entire bus network.  These corridors should provide better experiences for the customer both at stops and in the vehicles.  Some of the capital elements of enhanced bus corridors are: transit signal priority at all intersections to improve travel time, higher level amenities at stops, 60-foot low-floor buses to accommodate passenger loads.  The first enhanced bus corridor to be in service will be on East Lancaster with other lines to follow in the future.
Even within existing member communities, as the population and employment in them grow, more bus service will be needed to meet demand.  Two particular areas of focus for expanding service are the growing Alliance area in far north Fort Worth and the Naval Joint Reserve Base.  In order to create an effective network, additional transfer centers should be considered and built as appropriate.
Improve Community Perception of Transit
The T must work
to educate community members on the benefits The T brings to the community.  Much of the vision in this Strategic Plan will ultimately depend upon expanding revenue sources, a difficult proposition with many other public needs demanding attention too.  The T should demonstrate to Tarrant County residents that a strong transit system is an economic catalyst, improves quality of life and makes the city more competitive.  Maintaining strong support within the service area can also be a strong enticement for current non-members to join.
New Services to Expand Transit's Reach
Circulation within the urban core will be critical in ensuring potential rail passengers are adequately connected to their final destination.  A modern street car has been envisioned by many in the city and The T is supportive of bringing this technology to Fort Worth.  Other, less expensive options such as rubber-tired replica vehicles similar to Molley the Trolley should be investigated for use in central city circulation as well.
Some activities for this objective are:
Create on-demand, flexible service using smaller vehicles for low density areas

Develop a bicycle sharing program with kiosks at transit centers and major stops throughout the city

Investigate use of car sharing system at transit centers for residents who forgo a personal auto

Operate a modern streetcar system in the central city

Explore innovative ways to provide late night service
Create Transit-Friendly Environments
Increasingly, transit i
s seen as a catalyst to creating more desirable built environments.  As infrastructure and development centered on the automobile ages, many are seeing the unsustainable environment it creates.  Development that targets other travel markets, such as pedestrians and transit users, are being created to transform this built environment.  Its appeal to populations more inclined to use transit and increased densities near transit stops results in more usage of transit from the area.  And it creates an opportunity for The T to work with developers, community groups, and public and business leaders to improve quality of life within the community.  Additionally, such development creates a possible source of funding if strategies are in place to capture value that transit investment creates.  Finally, funding from the Federal Transit Administration (FTA) and other federal agencies are increasingly encouraging projects that promote walkable, mixed-use, livable communities.
Action items for this objective are:
Coordinating with local jurisdictions to encourage Transit-Oriented Development near transit centers

Ensure facilities allow good pedestrian and bicycle connections to surrounding neighborhoods

Increase number of bus shelters and other amenities at existing bus stops

Improve security at transit facilities

Monitor bus stops regularly and keep all clean and in a state of good repair

Investigate utility of creating dedicated police force for The T
Technology for Tomorrow
Technology holds many opportunities to reduce barriers to using transit.  Web based applications can be utilized to help customers plan their trips, and with the increasing number and abilities of mobile devices, these applications can be accessed anywhere.  Technology also offers the ability to market services to younger, tech savvy generations and create enduring markets for transit.
Key initiatives for improved customer information include:
Developing an on-line trip planning function with regional trip planning capabilities

Increase and customize alerts for online and mobile users

Create smartphone applications for transmitting information to customers

Expand use of information maps at bus stops throughout service area

Implement real-time customer information center at stations and online
Key initiatives for improving efficiency include:
Investigate electric or hybrid vehicle technologies

Implement Interactive Voice Response (IVR) system for paratransit scheduling

Utilize smart cards as an option for fare payment

Install Automatic Vehicle Locator (AVL) systems on buses

Use mobile data terminals for efficient scheduling in flexible services
Challenges
Creating a truly regiona
l transit network requires the expansion of service into current non-member areas.  An additional challenge will be to identify funding for many of the programs identified by this plan.  Non-traditional funding sources should be explored such as looking to opportunities to work with private sector partners, creating new revenues from existing or planned assets, and forming partnerships that allow cost sharing on projects.  Strategies to capture value created by planned transit facilities should also be developed.
Activities to meet these challenges are:
Support efforts to permit local option revenue sources for transit

Collaborate with non-member cities on ways to enable their entry into The T service area

Develop plan for capturing value on developments near transit stations and along transit corridors

Create strategies for collecting usage fees from those residing outside service area

Work with Denton County Transportation Authority and Dallas Area Rapid Transit on projects that allow cost sharing

Investigate utility of creating dedicated police force for The T

Develop strategic parking management plan for stations and downtown Fort Worth
For more information click on The T logo below:
Incoming search terms:
fort worth texas
downtown fort worth
Fort Worth Transportation Authority Bus
downtown fort worth texas
Downtown Fort Worth TX
fort worth downtown
aerial city views downtown fort worth tx
fort worth the t streetcar